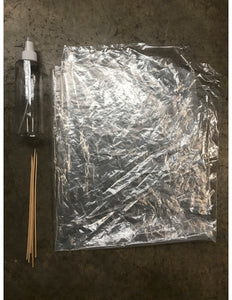 This listing must be purchased with a grow kit! 
The Humidity Set Upgrade includes humidity tent, bamboo skewers, and water spray bottle. The Humidity Set ensures your grow kit has the proper moisture retention and air exchange for your grow.
We Highly recommend this add on for best results.
Humidity Sets are also re-useable, meaning you can continue to grow new crops of mushrooms again and again with the same set.
Make sure to select Single, Two Pack, or Three Pack options for your humidity set.